GUITS & GEAR:
I'm a stratplayer. My first electric guitar was a japanese Cimar Stratocaster copy, and even today I can remember its smell and the smooth feel of its one piece maple neck. Although I owned and played a lot of guitars over the years, for me the look, the feel and the sound of a Fender Stratocaster represents the ultimate guitar design and one of the greatest sounds of electric guitar ever.
74 Fender Stratcaster, Lady Luck, the red one. great midweight alder body and a nice fat C-shaped mapleneck, 73 pickups with a Suhr Backplate for noise reduction. Loud and punchy.
1986 Corona AVRI 57' Fender Stratocaster, with a 84 Fullerton neck, all original. Custom shop quality from the eighties. A thick and wooden tone, light and resonant.
1989 Strat Plus, stunning Graffity Yellow, all original, quite rare with its beautiful rosewood fingerboard. (Jeff Beck had asked Fender to make him a `62 Vintage model painted in the same yellow color as the souped-up Ford truck featured in the movie American Graffiti.) A nice, easy to play and great sounding strat and an interesting piece of history.
One of my Strats, Lady One is handemade by a fantastic austrian luthier, Andreas Neubauer. A incredibly well crafted, killer sounding guitar I use for rock and blues stuff. A one piece light maple body, clear and silky tone. Very versatile with its two Seymor Duncan Pickups, SH 2 and SH 4. A perfect guitar for nearly every kind of style.
My "pride and joy"and two very special guitars are two 80'ties Master Series Fender Esprit with Gibson pickups and slightly modified hardware. Incredibly well crafted guitars designed by Fenders Dan Smith, made in Japan by the Fujigen Gakki Company ( which also made Ibanez guitars ) at a time when Fender did not possess the technology to build the instruments. I have a "Esprit Standard" and a "Esprit Ultra". The body is made of alder and maple (spruce top on the Ultra) and has routed chambers which make the guitar a little more acoustic than a Les Paul, yet delivering the tone and sustain of a Les Paul but with the more articulated and colourfull overtones of a Fender. A Esprit Ultra was Robben Ford's main guitar for many years, for good reasons: Esprits are excellent guitars with a delicate sound after changing the original pickups to PAF types. At the moment they are not yet discovered by collectors, so grab one before prices go up...


For "Straight Ahead" Jazz and the Bebop stuff I use my Gibson ES 175. The 175 is a really great instrument which sounds fantastic over nearly every amp. This guitar has also a very balanced acoustic sound, unless many other 175's which sometimes sound cheap and tinny. But also the Les Paul Pro with it's P 90 pickups can deliver a beautyfull, fat and jazzy sound. (listen to: Roxanne or How Insensitive)

AMPS:
I have to admit: I'm a Marshall Fan. This tight, juicy overdrive of a cranked Marshall, with some good Singlecoils or Humbuckers, maybe a tubescreamer or a fuzzface in front, allways drives a chill down my spine ;-)...
My main amp for playing Rock is a Marshall 30th Anniversary 6100 with a 70' Marshall 4x12 cab with the original Blackbacks. I normally use the amp distortion, only for colour and as a booster I put some of my overdrives in front. All the effect boards used to be mounted in a rack-drawer and were switched in and out by a rocktron looper. This provides always the cleanest possible line to the amp, taking all the effects out of the signal chain, which are not used . A Rocktron Bradshaw Switcher was used to control everything. A Quadraverb for a little reverb and delay, that's it.
But the days of complicated rack systems are gone. Like so many guitarplayers, I returned to the good old floor board a few years before. I use my effects rather economically and most of all I like the old stuff: Univibe, Fuzzface, Tubescreamer etc...longtime favourites on my floorboard: a Foxrox Captain Coconut and an Arion SCH-1 Chorus.
A special piece of heavy metal is my 73' JMP Super Lead 100 W Marshall:
Metal face Marshalls are sometimes regarded as the best sounding Marshalls ever made. I can only agree to this: This one is very aggressive, with quite early distortion on the Treble Channel, yet tight and dynamic, loud and punchy. Delivers 153Watt cranked. In the studio I have to use a second speaker cab or a dummy load to protect my valuable greenbacks from damage.
Marshall 2555 Silver Jubilee 100W: Bonamassas favourite, and I know why: fat and juicy, with a much more efficient EQ than other Marshall amps. Lots of gain and punch, and a very "vocal" character.
Mesa Boogie Mk IIB SRGX 60W:
Big, fat and throaty tenor voice with a leadsound like liquid gold. Great amp, a Boogie classic.
Even more punch with the additional 1x12 Boogie Thiele Cabinet.
If I had to sell all my amps and keep only one, this one would stay.
Another weapon in the fight against evil, the bad sound and the transistor;-)
A Kitty Hawk Standard 100W Combo:
This german boutique amps from the 80'ties are relatively unknown outside europe, yet very rare and getting more expensive rapidly. Kitty Hawk inported some Dumble amps in the beginning of the 80'ties and started to copy them and mix the features of the Dumble Overdrive and the Boogie Mark I into their own amp designs. Killer dynamics, very loud, very stable and bold clean, an unbelievable overdrive sound... The Ford/Carlton tone.
Kitty Hawk Junior 50W:
more like the Boogie Mark I with the two inputs: clean and overdrive, a little more "bite" than the Standard and even more dynamic, but also this sweet overdrive, when it's pushed...

Fender Deluxe Reverb:
Mostly in the studio, or sometimes for smaller club gigs, I use my Fender "Blackface" Deluxe Reverb. Especially with the Les Paul Pro a fantastic sound. Simply a legendary low volume amp...Very balanced and detailed. A little louder:
Vibrolux Reverb: 40 Watts and 2x10" Speakers make it sound a little different, although it has nearly the same layout and circuitry as the Deluxe. A very nice Jazz and Bluesamp...
Fender Blues Junior Limited Edition: a great little club amp. 18W power give you the chance to crank it without ear splitting loudness. This one is heavy modded by myself with all the famous Billm mods. More efficient tone controls, changed coupling caps, cooler bias, cathode follower and a Celestion G12-65 speaker. My main live amp for Jazz, Blues and Soul.
Custom Hiwatt 50:
Great British Amp, built like a tank, with an original 4x12 Cabinet with the legendary Fane speakers.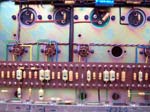 Acoustic G 60 T
Great american amps from the 80ties with glassy, yet warm Clean Sound and a creamy, soft Distortion. Also with the ultra-rare 2x12 Cabinet.
Simms Watts A.P.200
John Entwistle endorsed this Monsters long time ago. Four KT 88 deliver 200 Watt of undistorted Power. Definitly a Bass Amp, I sold it already to a Bass player...

Inside nearly as neat and acurate as Hiwatts. Made for eternity.